BRIDGES OVER THE SCHELDE


A PROJECT to connect people on both sides of the Schelde river for a special mission; to build bridges of friendship and faith between young people from different churches, cultures and ethnic groups, creating teams of friends with the intent to build briges and break down walls; to have a renewed and contructive influence in their world at home.
This does not just happen! Professionals of different sorts are recruited to initiate this process, maybe even guide it. One such a professional is BRUCE KUHN. His specialty is drama and acting. As trained and experienced Broadway-actor Bruce teaches young people to soar above their own expectations presenting themselves with confidence and poise.
Bruce combines his professional possibilities to the Bridges Over The Schelde. For want to find twelve young people as of age 15 to commit to an eight hour training between now and the middle of September. Six on the Zeeland side of the Schelde, six on the Antwerp side.
The first session is a four-hour training. Anyone interested can choose between three different dates/times.
Wednesday July 20 from 14:30 – 19:00

with a BBQ immediately thereafter on the Damplein of Antwerpen-North

Wednesday August 10 from 15:00 – 19:00

in the Vierslag in Kruiningen

Sunday August 28 from 16:00 – 20:00

in the Vierslag in Kruiningen
Cost for the complete course: € 15 including meals.
After this, the whole team comes together in September to work out the details and inspire each other.
Examples of churches already participating:
Sunday October 9: PKN church in Kruiningen – Luke 17: 11-19.
Sunday November 6: PKN church in Kortgene: Acts 10
Sign up only per email: bbuilders@zeelandnet.nl
PERFORMANCE OF BRUCE KUHN In St Andries Cathedral/church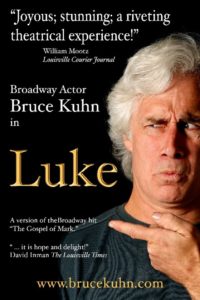 Ex-Broadway actor Bruce Kuhn gives a 45 minute performance on the Gospel of Luke in English on Monday July 18 at 19.00 in the St Andries kerk, Augustijnenstraat in Antwerp.
The presentation is the final stop of a Heritage Hunt Antwerp with the theme In Search of the Word. The Heritage Hunt starts in the center of Antwerp at 17.00 on the way to St Andries where the pilgrims arrive at 18.30. Those interested should be at the church at 18.30 to also hear a short explanation of this unique cathedral by pastoor Rudy Mannaerts!
Let's be very clear about our mission! It is our intented hope that the young people involved will become a team of friends to help spread the WORD across the Schelde to their peers and to anyone watching or listening!