I was born November 28, 1946, in a house just outside the village of Rilland-Bath across the street from a monastery of the Order of the Lesser Brethren. Rilland-Bath is a town of about 2000 people and is the outermost town of the predominantly Reformed-Calvinist Dutch province of Zeeland bordering the Roman Catholic province of North Brabant to the East. To the south it borders the harbour of Antwerp, Belgium on the Scheldt River. Some significance can probably be derived from my having been born there.
My father was a farmer, but the farm was about five kilometres to the east. Summer was all about working in the fields to help dad with picking potatoes, cutting onions and sugar beets, and gathering wheat and flax. I don't remember ever going on vacation as a family. During the year I rode a bicycle to school every day, 14 miles each way, rain or shine, enjoying it all.
My parents took me to church, but I don't remember ever being inspired by hard benches and long sermons. I do remember a Bible teacher by the name of Elenbaas. For some reason he made an impact on me, but I don't know why. In my early years I loved watching the TV series "Texas Rangers" and vowed to become a cowboy and go to America when the opportunity would come.
It came in October, 1963! I wrote a letter to an uncle and aunt in New Jersey to ask if I could come and live with them. A month later I got a letter back that I was welcome. My father was able to find help from others in the family to pay for a ticket and on February 4, 1964, only halfway through high school, I was on a ship to New York, a journey of ten days. 
It was a big family of eleven children in Mendham, New Jersey, and they had a very big house, more like a castle. The upper room on the third floor room became my room. They even had horses! They had two sons and a daughter still at home; the rest were off to college or married and gone. It was a wonderful family with love and care sprouting out from all they did. Living with them was like a dream. Their sons and daughters were all involved in an organization called Young Life. Young Life's motto is "It is a sin to bore young people with the Gospel." So there were a lot of fun activities. It was a great and new experience for me to be part of a youth group.
There were three relationships that made an impact on me during these years, from the spring of 1964 till the end of summer 1965.
My Aunt Hilda was a real spiritual trooper. "Oh John," she would say in her typical, loving voice, "God is so good, so good." Her prayer life was blessed by visible, everyday results, and I began to wonder if Christianity was more than sitting and listening in church. She was a devout Protestant but told me that sometimes she would sneak out of the house on Saturday morning to pray with Roman Catholics. That was not the thing to do for devout Protestants! That's like going to the enemy.
Pastor Gerald Gabriel of the Grace Bible Chapel is another trooper. I didn't really like his preaching style very much, but he was a real person with a real faith and a real, practical vision.The statement I remember most from him is: "It's all about the local church." And he lived out that thought for more than forty years building deep roots in the town of Chester, New Jersey.  
Wing Dings, a summer activity organized by all my cousins and the Young Life staff at the grounds of Grace Bible Chapel, brought hundreds of young people together from all over North Jersey. Many came in old yellow school busses. It provided three or four hours of fun every Tuesday night of the summer. I remember very distinctly sitting on the floor of the barn in Chester with my cousin Bobby speaking about God's love and forgiveness and with two hundred young people singing "The Lily of the Valley" in perfect harmony. For sure, that's where I connected most deeply with God. From that time on I knew what I wanted: more Bible and more of God in my life. That opened the door to Nyack College (a big milestone).
It was called Nyack Missionary College when I started there in the fall of 1965. I was never supposed to go there, because all my cousins went to another college, Kings College, the rival of Nyack College. I was introduced to the King's College on a "College for a Day" welcoming event. When I saw the size of their soccer field, I was not so happy. While I sat on a bench pondering my steps, someone came to sit next to me. He introduced himself as Don Sweimler, soccer coach of a college across the river. He explained that it was a multicultural college with students from all over the world with a big soccer field overlooking the Hudson River. The more he talked the more I got interested. So, instead of going to King's College, I went to Nyack College in the fall of 1965 to start four very inspiring years.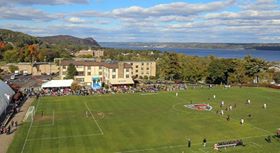 Nyack College is one of the four colleges of the Christian and Missionary Alliance. I had never heard of this church before, but that is what I learned about the first year. It is a denomination that originated out of the Presbyterian Church back in 1890 in New York City. The founder of the denomination wanted to create an alliance of churches for the sake of increasing the mission to foreigners flooding into NY City during those years, never intending to start a new church. Today the C&MA is still a large global church with a focus on missions work around the world. Consequently, I met many students from other cultures when I started at Nyack College.  
My days at Nyack College [the word "Missionary" was removed in 1966] were some of the best years of my life. The closeness built up with likeminded students was best shown at the morning chapel times where some 600 students sang songs and listened to inspiring messages of God's work around the world. What an inspiration! 
Life at Nyack College for me also revolved around soccer. The Nyack soccer team was made up of students from different parts of the world and became a tough opponent also for larger universities. In my second year we played the "big" Army Academy on their own field at West Point. Our tiny little missionary college defeated Army with a score of 4-2. I think the whole student body came to West Point to cheer us on.
At the start of my second year I was approached by two classmates, the McGarvey twins, Jim and John, for a unique summer job of selling dictionaries door to door. It sounded interesting because it gave me the opportunity to see more of America. They practically guaranteed that I would make more money than I did pushing carts at an A&P all summer long. They also recruited another member of the soccer team, Ken Roush, from the class of '70, so the four of us were off to Nashville, Tennessee, in the McGarveys' car for a week of training at Vanderbilt University. There, together with about 300 other idealists, we were pumped full of energy with the promise of green skies on the horizon, the colour of money. They told us that even if we were the dumbest mules on the face of the earth, if we would do what they said, we would make money. 
The first year (1967) it was in Little Rock, Arkansas, then northwest Georgia (1968), and the last summer (1970) in Omaha, Nebraska. We worked 72 hours a week with no one looking over our shoulder for twelve weeks of the summer, starting at 8 am in the morning, often in 85-degree heat already, sometimes waking up people. But I did what they said and made money, enough to pay off all my school loans by the time I finished college.
During my third year at Nyack something happened that would bring me a new perspective and direction for when I finished college. During one of the spiritual emphasis weeks at Pardington Hall I had an overwhelming spiritual experience that I cannot explain. It was clear from that point on that I was to go back home to do youth ministry in the region of Zeeland. 
As soon as my four years at Nyack College were finished I was a ship back home to Zeeland. 
Back in The Netherlands a frustrating year began. I lived at home doing odd jobs or no jobs at all and basically lived a whole year off of my parents. Well, I figured because I had a calling from God, He would show the way. Talk about being arrogant: I started a youth group at the Reformed church in Krabbendijke. My only help was a big Bible, a BA in Social Science, some great experiences of what youth work could be like, and a calling I was sure of. But nothing fit. The youth group was going nowhere and all the spiritual excitement that had built up in four years at Nyack had evaporated by the end of that year.
During that year, however, an interesting milestone occurred when I was visiting a good friend from high school, Ab Blok. Ab was studying to be a vet at Utrecht University. While I was staying at his apartment I looked out the window and saw the sign "Youth for Christ" on a building across the street. I remembered that my friend from Nyack College, Ken Benjamin, went to The Netherlands to work for Youth for Christ. I walked across the street and rang the bell. It was Ken himself who opened the door! He shared about the ministry of Youth for Christ and the need they had for Christian music groups for their summer coffeehouses around the country. They needed thirty music groups in the summer. I never thought much about it then, but that short visit became another milestone in my journey.
Our Generation
In May 1970, after a frustrating year at home, I was back on the hillside of Nyack. I always had a place to stay at Oddy Olsen's apartment in the centre of the campus. Oddy had become a close friend as we worked together in the kitchen all the years at the college. Almost as soon as I got back I was approached by two students, Peter Colman and Bill Fisher, to join a music group on campus. I thanked them for the honour of their invitation, but turned them down because I already had my plans set to continue my education. I was planning to sell dictionaries one more summer and then choose a course of graduate study, perhaps in Linguistics or Anthropology. But the Lord changed my mind that night, and the next day I went back to see them and agreed to join the music group, but on one condition: that they would go to The Netherlands with me the next summer.
The group agreed, and that is how my journey with Our Generation started. I did go out west that summer to sell dictionaries and it was my best summer yet. I fell in love with that great city of Omaha with its open- minded people. It is still my favourite American city today.
The story of Our Generation could fill a book, and that will have to come later. One thing is worth mentioning now. During the year the folk group Our Generation became a rock band and it was just then that the Jesus Movement blew over from California. It settled in a coffeehouse in New Milford, New Jersey, where we sometimes played. Rev. Paul Moore and Charley Rizzo were the key leaders there. Paul Moore suggested we cut an album and so we did. I started writing songs while washing pots at the kitchen at Nyack College. When we had enough songs, we recorded them at a studio on 42nd Street in New York City.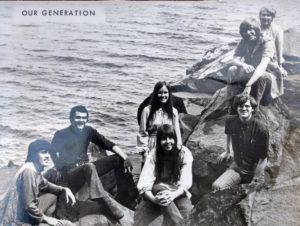 To save money and time we recorded the whole album in one night, from late afternoon to after midnight, first the instruments, then the vocals. We printed only 500 copies figuring that would raise enough money for the tour. Little did we know that the album started a life all on its own. But that is another story! Google https://www.popsike.com/OUR-GENERATION-Dawning-Of-The-Day-71-RARE-private-Xtian-garage-psych-NM-read-/161407208887.html to find out why we were so surprised!
In the summer of 1971, Our Generation was on tour with Youth for Christ in The Netherlands. Two weeks in Naaldwijk, two weeks in Haarlem, and two weeks in Zeeland organized by my brother Adrian. It became a significant summer. I fell in love with the ministry of Youth for Christ as well as with Donna (one of the lead singers in the band), and we were engaged that summer, during the tour. We were married the next summer (1972) and came back to The Netherlands to work with Youth for Christ in September of 1973.
During the preparation tour in the US with Our Generation (June 1971) we came in contact with Love Inn, a Christian Community in New York State. Phil Keaggie was a member of this community and on one of his last albums there is a photo of our band sitting in the front row at a Love Inn concert. After the summer in The Netherlands, we made plans to return to Europe to start a community similar to Love Inn and develop a European music ministry. I still have the flyer we made to raise money from that time. But it never happened. Only Donna and I returned to Europe in the fall of 1973 and Lowell and Linda Weeks and Glenn Eberhard came over for a year to work with us in 1974. Finally, in 1983, we got our "farm." It is called The Vierslag.