Here are the most frequently asked questions. Can not find your question here, please contact us.
Team members are expected to build a support team at home for prayer and financial support. Atlantic Bridge helps team members recruit a support team. The financial support needed for the project is raised fully by the applicant unless special funding is granted through the Atlantic Bridge Scholarship Fund. European volunteers may be able to receive funding through the European Voluntary Service.
Intercultural Youth Work:
This internship requires being involved in regional youth work and participating in the following, depending on your own interests and talents:
1) Research & discovery of the local/regional youth culture.
Part of the Bridgebuilder Internship year may involve a Marco Polo Project to discover and/or get acquainted with the area you will be working in. You study and observe your host culture and make contact with young people in schools and youth clubs using a research survey.
2) Present your own culture and background.
You will be asked to share and teach your culture, personal background and convictions to members of your host culture, most often in a classroom or youth club setting. It is a good idea to bring video and photos of your home, family, city, country, etc. Atlantic Bridge will help you prepare your program.
3) Become a Bridgebuilders Club leader or help as an assistant leader to build up a local Bridgebuilders Club.
This means you prepare meetings and plan inter-cultural training events for them.
4) Take your Bridgebuilders Club on an exchange week.
Your Bridgebuilders Club may be involved in a foreign exchange, so you will assist in the planning and conducting of the exchange as the Club meet youth in another country, whether close by (Belgium) or far away (USA).
Weekly Activities:
1) Contact work with youth in schools and youth groups
2) Lead (or assist in leading) a Bridgebuilders Club.
3) Study and training:
a) language
b) culture and inter-cultural training, and
c) some training in inter-cultural youth ministry
4) Plan and prepare promotion and administration of the Bridgebuilder Intern team.
A Bridgebuilder Intern is a young person between the ages of 18 and 26 who lives in one of our regions for an extended period of time to help build relationships and develop our projects in that region.
Our interns are based in a region for 10 months
They typically participate in lessons in local schools (for example helping with English), build relationships with local youth and help plan and run a Bridgebuilders Club in the region. They also help develop youth work in our regions by undertaking special projects, such as a Marco Polo (MP) or First Contact research or coordinate a weekend exchange between local youth and a youth group in a neighboring country.
Interns ideally work in teams of 2 – 5 people. When we have more than eight interns we use the word DREAM TEAM as it is a strong enough team to accomplish our dream of inspiring a whole region for the mission of building bridges. They work with Regional Support Teams in the different towns to start, build or expand this mission. bringing young people together.
We also need interns who are gifted in planning, organising, writing and promoting as these are all part of keeping a Regional Youth Contact running.
Many years ago men on horseback rode the western plains as saddleback preachers inspiring new believers and nurturing new churches into existence. They became known as the Circuit Riders. Today a new generation of Circuit Riders is emerging, not on horseback but travelling by train, on bicycle and by car visiting schools and youth groups across Europe.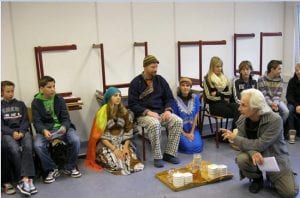 Circuit Riders are musicians, small bands, poets, dance or drama artists or people with a unique teaching topic or ability. They can be English teachers or storytellers; young, old, or any age in between. Whatever they do, they are an inspiration to who they meet. Circuit Rider teams are usually between 2 and 4 members. Their mission is to build bridges and break down walls.
PUNKY MONK was first officially introduced at the festival of Koszeg. Through letters sent to the festival participants he told about his background, talents and also his special calling.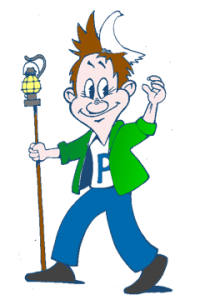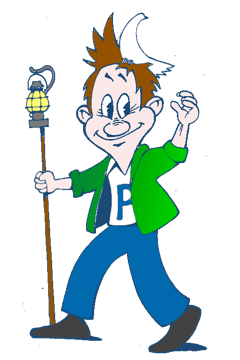 He was once part of a circle of brothers (monks) in a monastary on a hill just outside of Nitra, the oldest city of Slovakia. He left the monastary because he did not feel he could have a real affect on the world by living with his brothers on this hill and only praying. He wanted to actively share God's love with the youth of today.
Some of the things he wrote in his letters to the festival participants were:
he was given a special gift: the ability to travel in time

he gets excited when he sees the word LOVE in action
he loves history and believes it is important to teach young people about things of the past
he has a group of special friends who are called Circuit Riders and togoether with these friends he will lead the Karavaan
He will introduce these friends one at the time
OK. So we are starting our 'trek' and let me tell you from the start. I am not a leader though I may lead. I jump in and out of time zones and its tough to tend to all the worlds ailments. I am without age. I am without form but what you see is what you get. I kick shins but for good reason. And there is one word in the dictionary of life that I get very excited about. LOVE.